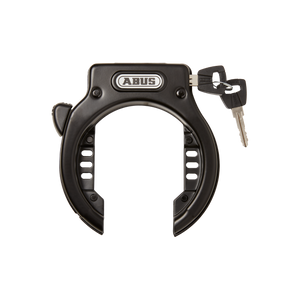 Quickly and conveniently secure your ebike. Only compatible with RadCity and RadMission models. Adaptor chain sold separately.
Overview
Stop would-be thieves by locking up your ebike's rear wheel. We've partnered with ABUS, a trusted brand known for safe, dependable, and durable products, to bring our riders the RadCity Wheel Lock by ABUS.
The lock securely mounts to your ebike and stays on while you ride. It also won't interfere with other accessories, such as panniers, child seats, or fenders. That means you'll never have to worry about forgetting your lock at home before your commute or finding a place to store it when you're out and about.
We strongly recommend using the lock with an ABUS Adaptor Chain (85 cm or 130 cm), which will allow you to secure your ebike to a fixed object, like a bike rack or railing.
---