RadRunner 1
Electric Utility Bike
Shipping: Free
$200 off your purchase when you buy 2 ebikes with code 2xEbikeCombo (terms apply)
Winner, Bicycling Magazine's 2020 Editors' Choice Award - Best Value Cargo Bike
Winner, Best Electric Minibike of 2020
Ebikes from Rad Power Bikes were named the Best Electric Bikes in 7 categories by ElectricBikeReview.com, the most of any electric bike company.

750W
Geared Hub Motor
Up to 45+
Miles per Charge (estimate)
48V, 14 Ah
Lithium-Ion Battery
300 lb
Payload Capacity
View All Technical Specs
Hear from Real
Rad

Owners

"Shocked by the level of quality for the price. It's amazing."

- Jeremy S.

"It's the best purchase I've made in years! Great customer service also!"

- Stephen S.

"This is an awesome bike. Has lots of power and handles wonderfully."

- Joanna P.
Designed to be customized.
This single-speed bike isn't just built for utility — it's built for you.
A total of 330 accessory combinations means your RadRunner can be uniquely yours. Compatible with our full suite of racks and platforms, and introducing our patent-pending Passenger Package and Center Console, you can accessorize to your heart's content to truly expand the bike's functionality.
We didn't think we'd ever actually need to use the formula for calculating combinations that we learned in high school algebra.

Technical specs
Puncture-Resistant Tires
Made from a layer of aramid and ceramic particles inside the tire under the tread, the Kenda K-Shield integrated tire liner is a line of defense designed to provide extra protection against punctures from thorns, glass, and other small materials.
Single-Speed Drivetrain
The simplified drivetrain makes for easy riding and low maintenance. Ideal for new riders or those just looking to cruise.
LED Control Panel
A simplified LED control panel means one click on and one click off, with additional buttons for lights and pedal assistance, and LEDs to indicate battery and assist levels.
Integrated Rear Rack
Attach panniers, platforms, or baskets and let the bike carry your cargo. Or mount a Yepp Maxi child seat and bring your kids along for the ride.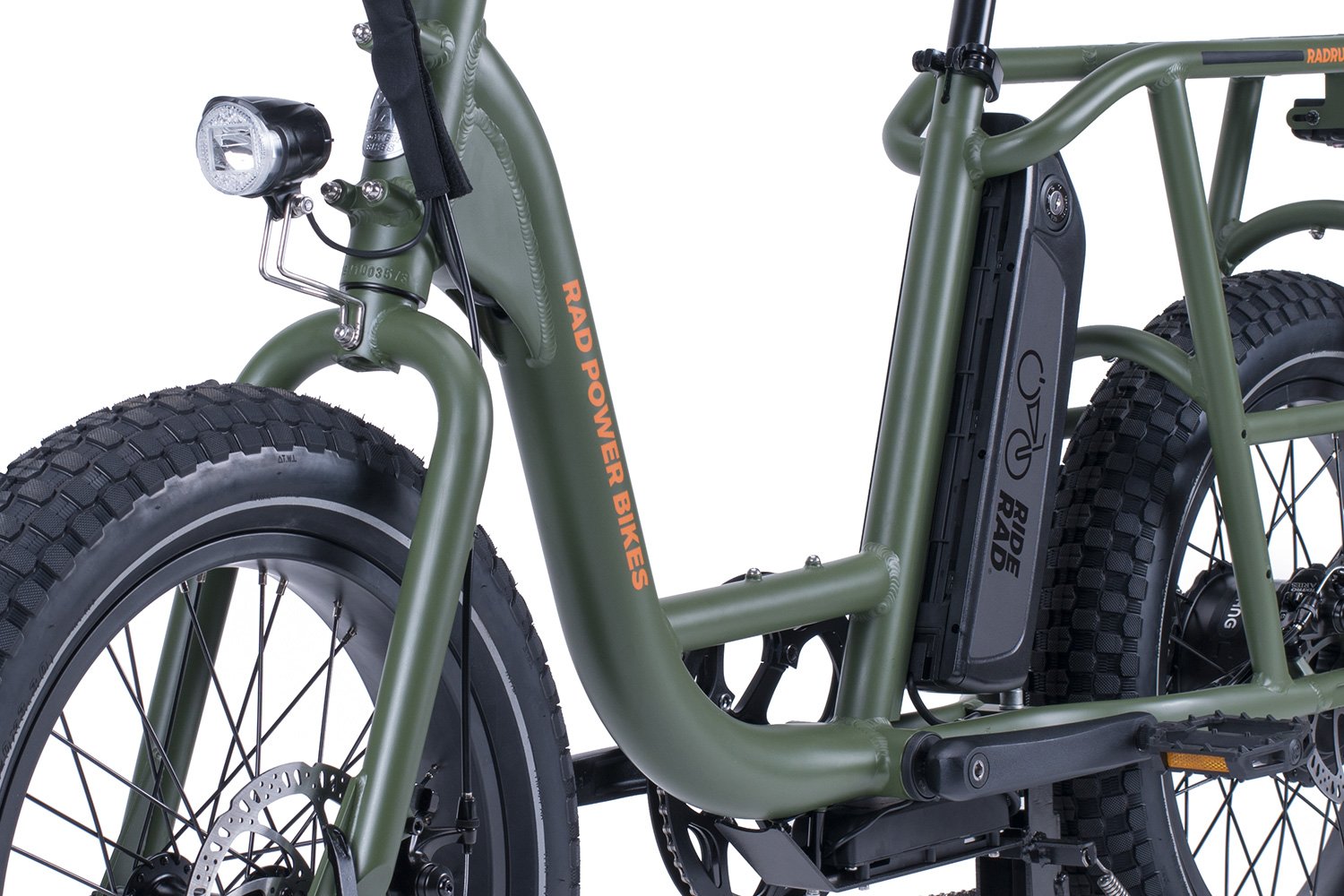 Low-Step Frame Design
Featuring a 16.5" stand over height, this ebike is perfect for those needing a more approachable package without sacrificing features or functionality.
Rigid Front Fork
Stable and responsive, the rigid fork provides ultimate control when cruising around town.
Upright Handlebars
High rise aluminum handlebars allow adjustment to support various arm lengths and a more laid back riding position.
Dual Leg Kickstand
Increased stability when loading cargo or when passengers jump on the rear.
750W Bafang Geared Hub Motor
80 Nm of torque to conquer hills and power through loose terrain like never before
Twist Grip Throttle
750W of power on-demand.
Integrated Brake Light
Powered using the main battery pack and features brake light functionality that is activated any time the brakes are applied.
Reflective Sidewall Striping
Extremely durable and have a larger total reflective surface and better visibility than traditional spoke mounted reflectors.
Battery
48V, 14 Ah (672 Wh) with Lithium NMC Samsung 35E cells, rated for 800 charge cycles

Charger
48V, 2 Amp Rad Power Bikes smart charger, operates on both 110V and 230V AC power outlets

Controller
48V, 750W

Display
Intuitive LED display that shows battery charge level, pedal assist level, and light indicator


Hub Motor
750W brushless Bafang geared hub motor with 80 Nm of torque, 5:1 planetary gear reduction

Lights
Front: LED headlight
Rear: Integrated taillight with brake light and flash mode

Pedal Assist
Intelligent 4 level pedal assist with low profile cadence sensor


Range
25-45+ miles per charge (estimate)

Throttle
Half twist throttle

Wiring
Water resistant connectors and wiring harness

USB Ports
None


Brake Calipers
Tektro Aries (MD-M300)

Brake Levers
Aluminum alloy comfort grip levers with motor cutoff switch and integrated bell

Brake Pad Material
Organic compound

Brake Rotors
Tektro 180 mm front and rear

Chain
KMC Z7

Crank Set
53T, 170 mm forged alloy, dual-sided aluminum bashguard

Derailleur
Single speed chain tensioner

Fenders
Optional

Fork
Rigid steel


Frame
6061 aluminum

Freewheel
DNP 16T single speed

Gearing
Single speed, 16-53

Grips
Durable ergonomic rubber

Handlebar
Aluminum high rise, 660 mm wide, 10" rise

Headset
Semi-integrated, 1-1/8" straight steerer tube

Kickstand
Dual leg steel, spring loaded

Pedals
Wellgo composite platform with reflectors, CrMo axle, standard 9/16" x 20 TPI threading

Racks
Front: Optional
Rear: Integrated, 120 lb carrying capacity, 25.5 mm tubing diameter


Rims
Double wall, 36H

Saddle
Exclusive Rad Power Bikes moped-style, integrated steel seat post, fixed angle

Seatpost
390 mm x 27.2 mm

Seatpost Clamp
Quick release

Shifter
None

Spokes
12-gauge stainless steel, black

Stem
50 mm + 30º (15 mm rise)

Tires
Exclusive Rad Power Bikes by Kenda K-Rad 20" x 3.3", K-Shield puncture-resistant liner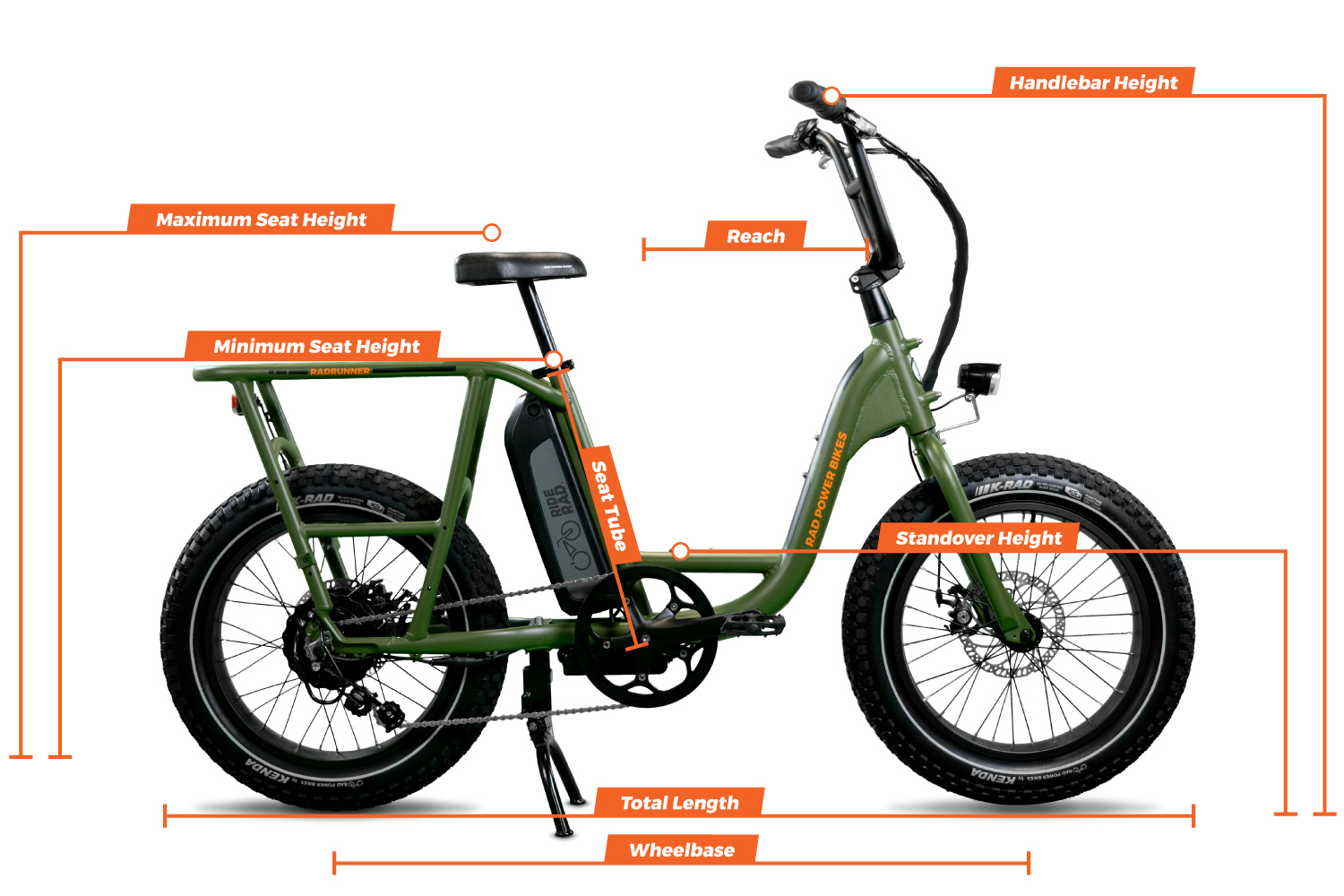 Recommended Rider Heights
4'11" - 6'2"

Frame Size
18"

Handlebar Height
45"

Handlebar Reach
15"

Seat Height
25.25" - 36.5"
*Measured from bottom of the pedal stroke

Standover Height
16.5"

Total Length
67"


Wheelbase
44"

Dropout Width
Front: 135 mm
Rear: 167 mm

Bottom Bracket Shell Width
100 mm
Square Taper Bottom Bracket

Seat Tube Length
18"

Top Tube Length (effective)
N/A

Headtube
7.3"

Chainstay
20.2"


Handlebar Width
27"

Crank Length
170 mm

Seatpost Diameter
27.2 mm

Max Tire Width
3.3"

Bike Weight
65 lbs

Payload Capacity
300 lbs


What to Measure
Your "real inseam" -- or inside leg length -- is the distance between your body where it sits on your bike saddle and the ground.
This will typically be an inch or two longer than the length of your trousers, but you'll want to measure to be sure.
You'll use this number on the chart to get a feel for how the different models will fit you.
How to Measure
Gather the tools needed:
Medium-width hardcover book
Tape measure
A wall you can stand against
A trusted friend or relative
Wearing your regular riding shoes and with your back to the wall, stand with your feet spread so there is about 7 inches between them - this is about the distance apart your feet would be when straddling a bike with your feet on the ground (standover height).
Place a hardcover book against the wall with the spine of the book facing upward. Slide the book upwards towards your groin until it is solidly against your body. This may be a bit awkward, but is way more comfortable -- and safer! -- than trying to ride a bike that is too big.
If you have a buddy helping you, get them to measure from the floor to the top of the book spine while you hold the book in place. If you're going it alone, carefully hold the book in place and measure from the ground to the top of the book spine.
Proprietary Passenger Package
Other ebikes with bench-style seats have one thing in common: they offer zero means for the rider to adjust the height of their seat. This means nearly everyone is always pedaling in a poor riding position.

We are changing that in a big way. The RadRunner is the very first ebike or scooter to have an adjustable driver's seat that can either be completely flush with the passenger's seat or adjusted higher like a standard bike.

Keep the seat low so your passenger can snuggle up close or raise the seat up to get proper leg extension while pedaling. You do you.

The Rad Battery Pack
With over a decade of designing and building ebikes under our belts, we know that a high-capacity battery like this isn't something you cheap out on. We designed and built our batteries using genuine Samsung 35E cells, which are some of the most energy-dense and reliable lithium-ion cells on the market today. These cells have allowed us to build an overall better battery, and at only 7.7 lbs, it's one of the lightest and most energy-dense packs on any electric bike.
25-45+
Miles per Charge
5-6 Hours
To Fully Charge
672 Wh
Total Battery Capacity
Compact, Discreet, Maintenance-Free Hub Motor
With 750W and 80 Nm of torque at your disposal, this Bafang geared hub motor is what is going to help power you up steep inclines and get you up to top speed quickly from a dead stop, all while remaining quiet and inconspicuous. These kinds of numbers aren't even found on some of the most expensive mid drive systems out there, so prepare to outperform and outclass everyone you see on the road.
750W
Motor Power
80 Nm
Max Motor Torque
Winner, Best Electric Minibike of 2020
"This is an incredible electric bike for the money."
- ElectricBikeReview.com
Love at first pedal!
I have had asthma all my life and it has limited my choices for physical activities. I have found the answer with Rad bikes! I can now participate in more outdoor excursions with my friends and family! I feel free! Thanks Rad power bikes!♥️
Humming
Starting to hear a humming noise from motor.
Rad Runner
The bike has been great so far. I use it as a daily commuter in Portland Oregon. I average around 16 miles a day, 5 days a week. I have been charging the battery every day due to the fact that my morning ride takes me up a large hill that sucks a lot of the life out of the batter. I've already had to change a flat rear tire due to running over a razor blade that was deliberately placed in the bike lane. I really enjoy staying off of mass transit and saving on my commute time. I'm 44 and have a bad knee that will need to be replaced eventually, so avoiding pumping up a hill every day the electric bike is quite helpful and painless. I"m curious about self maintenance on this bike and will certainly find out how tune ups go.
Great bike, with a major catch
I've had the bike for a few months and I've been using it to get to work, and it works really well for that. I'd get there and back with ease. Sadly just this week it rained really hard. The rain somehow seeped into the LED display and fried it making the bike's electronics unusable. I had to pedal back after a 12 hr shift and it wasn't fun. All that was keeping it from the rain was a sticker, and that was really unfortunate. I had to pay 111 for a new display yesterday. If you do get a Radrunner just beware of the rain, maybe look at the other models to be safe unless you like it and get a display upgrade. It's a great bike though! So don't let that keep you
Tahoe Ebikes most popular rental ebike
I have a fleet of RadRunners rental ebikes in North Lake Tahoe. Everybody loves the ride and the looks of the RadRunners. The no fuss single speed paired with 4 levels of pedal assist is the best part. Many people who are not experienced bike riders do much better not having to shift gears.
Money well spent
Got mine at the beginning of covid, beginning of April Best money I've spent, it got me out of the house every day for hours. I live 1 mile to the beach, so it was an easy way to quickly get around. I get many inquiries about the bike, its awesome, so fun, comfortable and easy to ride. Highly recommend 👍🏼👍🏼
Great Price For Amazing Quality
Most fun purchase ever, and I'm 70
Extended my average range by 4x. 5 miles of mild hills became 20 miles of same, every day. Bystanders wave and smile. When I stop conversations start. Everybody that tries it loves it; seems they can't wait to say yes to my offer to try it.
My Best Purchase In Years
I Got a RadRunner. My dog and I go for a ride every day through San Francisco. Hills don't stand a chance. My wife always calls me asking us when we coming home.
The whole family rides!
We love this bike! It's great both for commuting and for little dinner spins downtown. We literally ride the whole family on it, which works fine even though it obvs exceeds the weight limit with my >200 lb husband "driving," our 40 lb kiddo in the middle, and my 150 lb self in the back:)