Sizing Guide
Measure the circumference at the level of your forehead, approximately 1 cm above your eyebrows
---
Small
20" - 22" (52 cm - 55 cm)
---
Medium
22" - 24" (55.5 cm - 59 cm)
---
Large
24" - 24.5" (59 cm - 62 cm)
---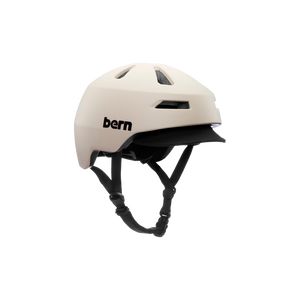 Ride safe, stylish, and comfortable with the Brentwood 2.0 MIPS Helmet.

Helmets are final sale.
Overview
The Brentwood MIPS combines Bern's signature urban look with MIPS* technology. Beyond classic style, the Brentwood MIPS features a patented soft visor to protect your face from sun, rain and whatever the day may throw at you.

*What is MIPS?
Multi-directional Impact Protection System, or MIPS®, is a brain protection system designed to reduce rotational forces caused by angled impacts to the head.
Product information provided by Bern.
---
Bern Brentwood 2.0 MIPS Helmet