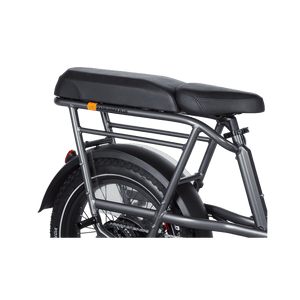 Designed exclusively for the RadRunner 3 Plus, our upgraded passenger package lets your friend, partner, or kiddo ride in comfort.
Overview
The RadRunner 3 Plus doesn't just maximize comfort for riders. With our redesigned passenger package, your partner can enjoy miles and miles of plush rides. For a moped-style experience, the rider's saddle can be adjusted to align with the passenger seat.
Package includes a passenger seat, retractable footpegs, and a protective wheel skirt.
Have a RadRunner 1, 2 or RadRunner Plus? You'll need the RadRunner 2 Passenger Package.
---
RadRunner 3 Passenger Package