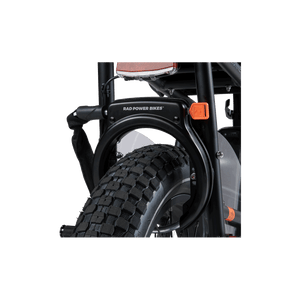 Enjoy security and convenience with the only wheel lock on the market wide enough to accommodate Rad fat tire electric bikes.
Overview
It's never been easier to keep your Rad fat tire ebike safe. Our first-of-its-kind Rad Fat Tire Wheel Lock locks up the rear wheel to prevent would-be thieves from riding off with your ebike.
It's conveniently designed to stay on your ebike while you ride and won't interfere with panniers, child seats, fenders, or other accessories. That means you'll never have to worry about forgetting it at home before your commute or finding a place to store it when you're out and about.
We strongly recommend using the lock with the Rad Wheel Lock Security Chain, which will allow you to secure your ebike to a fixed object, like a bike rack or railing.
This lock is compatible with Rad fat tire ebikes released in 2021 or later, earlier models do not have mounting points on the frame. See compatibility section for more details.
---