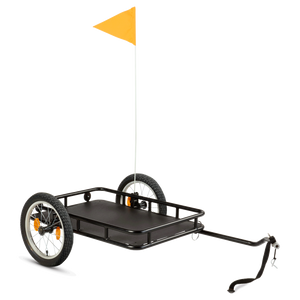 Carry more cargo. Go more places. 

Our durable, flatbed trailer carries up to 100 lb and is easy to install whenever you need to expand your ebike's cargo space.
Overview
The Rad Trailer combines the utility of a truck with the convenience of an electric bike. Featuring a durable polymer deck lined with a steel frame, its versatile, open-air design makes it the perfect companion for last-minute runs to the hardware store, a spontaneous barbecue with friends, or a weekend camping trip. With a 100 lb payload capacity, you'll have access to your gear whenever and wherever you might need it. And for extra peace of mind, the Rad Trailer comes standard with reflectors and an eye-catching safety flag.
Want to share the fun of the Rad Trailer? Bring your pet along with the Rad Trailer Pet Insert. Need your trailer to haul more? Check out the Rad Trailer Cargo Bin.
Please note: The Rad Trailer is not designed to carry human riders.
---