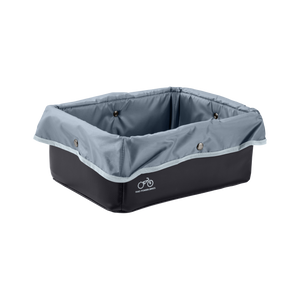 This basket liner opens up a world of Radventure for your little friend.
Overview
The Pet Basket Liner fits perfectly in our Small Basket, and includes a leash hook to ensure your buddy -- rat, hamster, cat, dog, etc. -- stays put.
Have a larger pet or want an option to better contain your pet? Our Pet Basket Carrier is larger and features a mesh enclosure and handle for easy carrying, and it's designed to work with our Large Basket.
Meet Our Pawtography Model: Winston's a rescue pup who spends a lot of time brushing up on his canine nose work, especially when that involves hot dogs or cheese as a reward. When he's not following his nose (and his tummy), this pint-sized dude enjoys long afternoons stealing his brother's toys and riding on his mother's ebike. Fortunately, not at the same time.
---