ASK AN EXPERT
Our expertly trained Customer Experience team is here to help.
(800) 939-0310 x1
Hear from Real
Rad

Owners

"Shocked by the level of quality for the price. It's amazing."

- Jeremy S.

"It's the best purchase I've made in years! Great customer service also!"

- Stephen S.

"This is an awesome bike. Has lots of power and handles wonderfully."

- Joanna P.
The Commuter's Dream
Our iconic commuter bike is back in its Raddest version yet. New for this year, the RadCity 4 comes in a single, 18.5" frame size to fit a wider variety of riders. Its updated, swept-back handlebars are designed to keep you comfortable on longer rides, and it has mounts on its frame for an optional wheel lock.
The RadCity 4 lets you get across town like never before. You'll power over hills with ease, and you'll do it in style and comfort with a stock rear rack, fenders, and front suspension.
750W
Direct Drive Hub Motor
Up to 45+
Miles per Charge (estimate)
48V, 14 Ah
Lithium-Ion Battery
275 lb
Payload Capacity
View All Technical Specs
Technical specs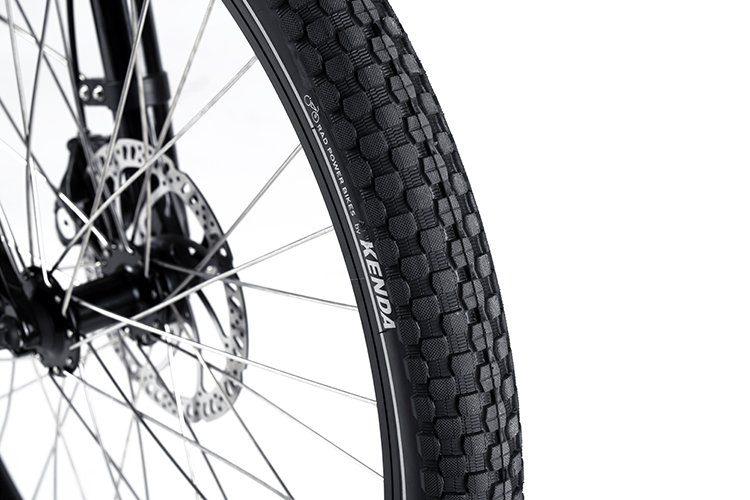 Puncture-Resistant Tires
Made from a layer of aramid and ceramic particles inside the tire under the tread, the Kenda K-Shield integrated tire liner is a line of defense designed to provide extra protection against punctures from thorns, glass, and other small materials.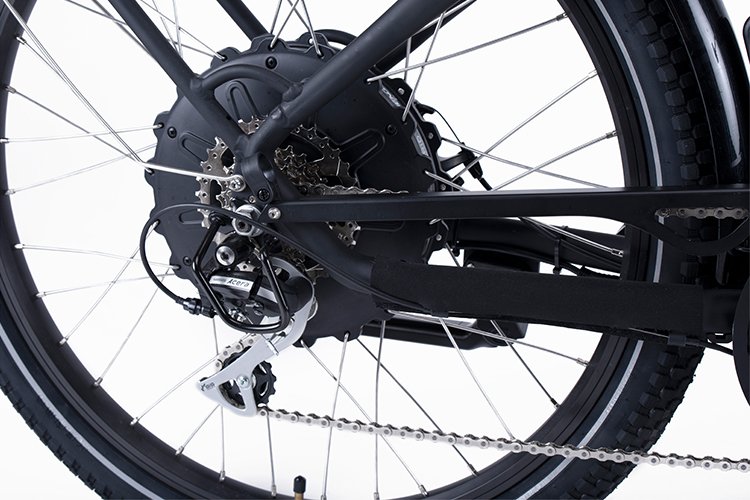 7-Speed, 11-34 Tooth Freewheel
A wider range of gearing at your disposal means more torque for treacherous uphill climbs and maintain pedal authority at top speed.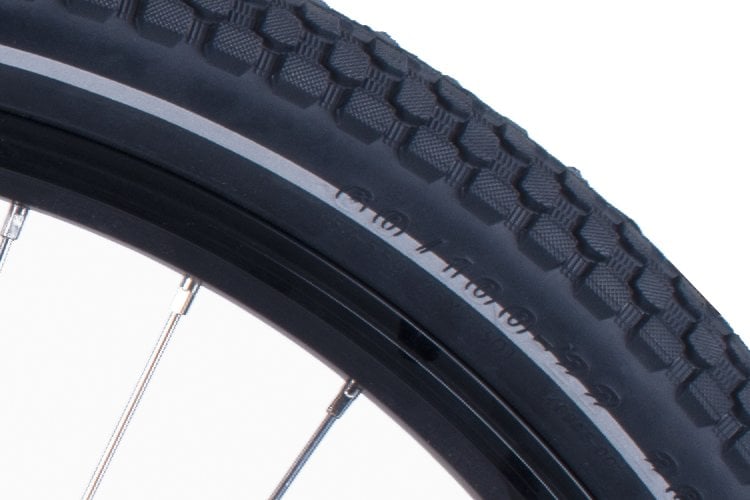 Reflective Sidewall Striping
Extremely durable and have a larger total reflective surface and better visibility than traditional spoke mounted reflectors.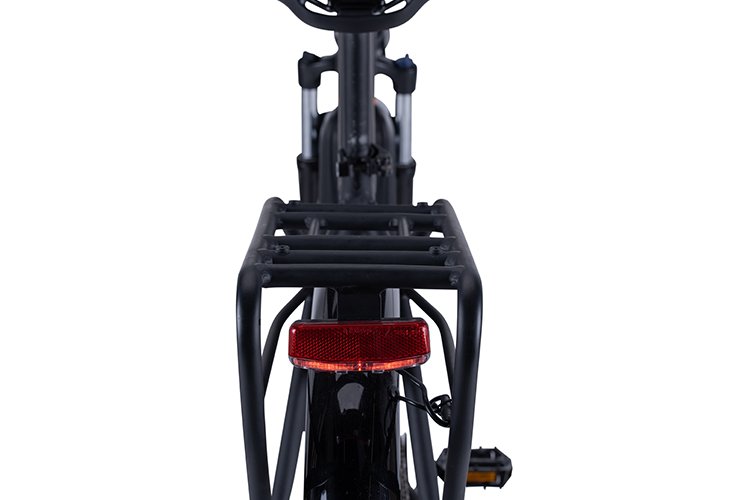 Integrated Brake Light
Powered using the main battery pack and features brake light functionality that is activated any time the brakes are applied.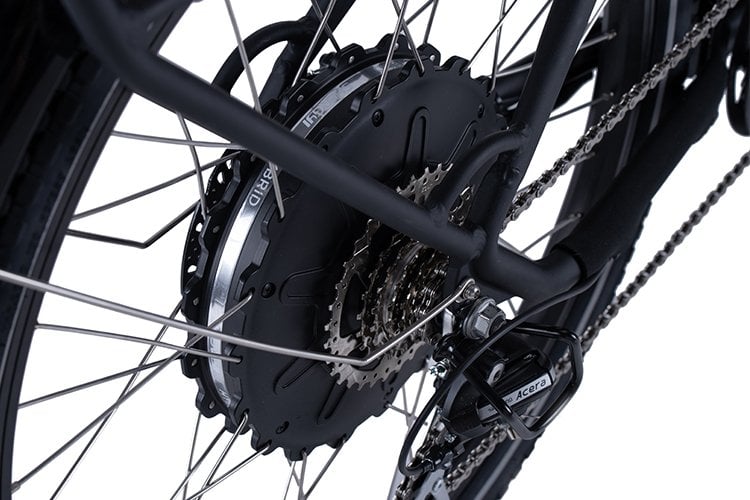 750W Shengyi Direct Drive Hub Motor
The direct drive hub motor provides smooth acceleration and features regenerative braking to help recharge the battery any time you engage the brake levers.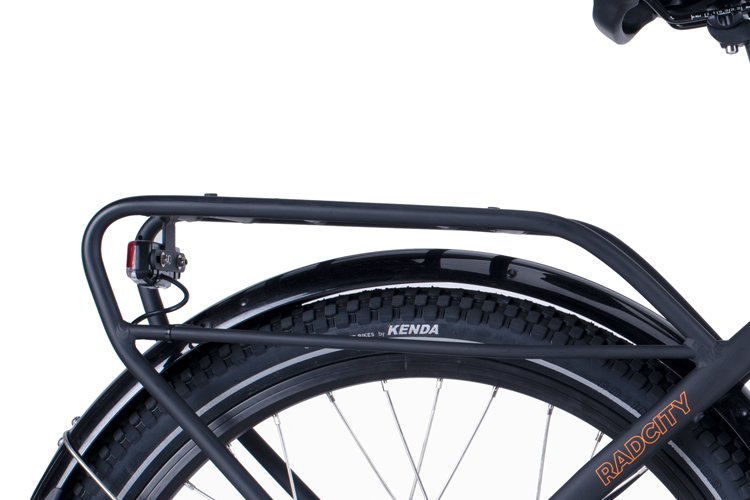 Integrated Rear Rack
Attach panniers, platforms, or baskets and let the bike carry your cargo. Or mount a Yepp Maxi child seat and bring your kids along for the ride.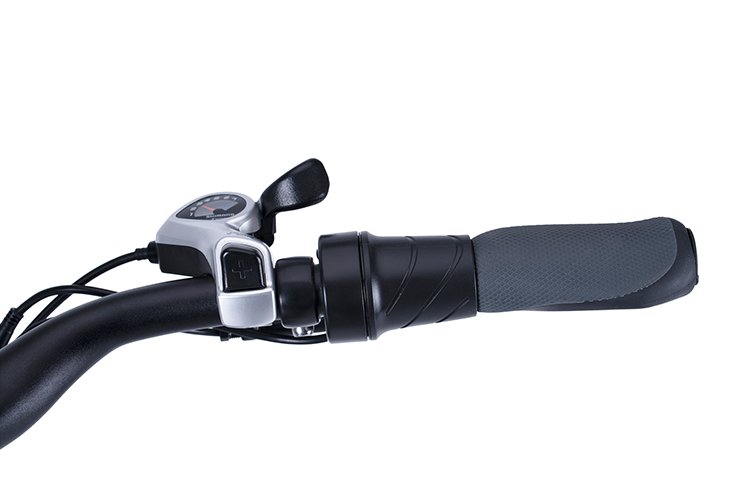 Twist Grip Throttle
750W of power on-demand.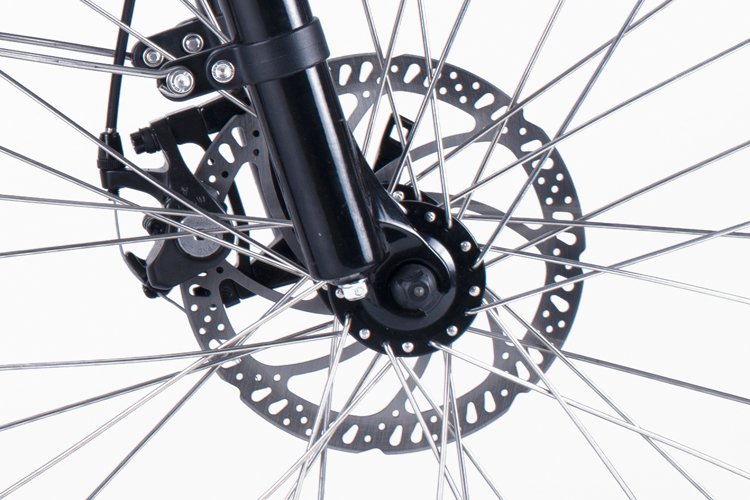 180 mm Mechanical Disc Brakes
Tektro Aries brakes provide you with strong stopping power, even in loose terrain.
Battery
48V, 14 Ah (672 Wh) with Lithium NMC Samsung 35E cells, rated for 800 charge cycles

Charger
48V, 2 Amp Rad Power Bikes smart charger, operates on 100V-240V AC power outlets

Controller
48V, 750W

Display
Backlit LCD with charge indicator, speedometer, odometer, trip odometer, pedal assist level, wattmeter, and more


Hub Motor
750W brushless Shengyi direct drive hub motor with regenerative braking, 40 Nm of torque

Lights
Front: Standard Rad Power Bikes LED headlight
Rear: Integrated taillight with brake light

Pedal Assist
Intelligent 5 level pedal assist with 12 magnet cadence sensor


Throttle
Half twist throttle

Wiring
Water resistant connectors and wiring harness

USB Ports
Display: 5V, 1 Amp


Brake Calipers
Tektro Aries (MD-M300)

Brake Levers
Aluminum alloy comfort grip levers with motor cutoff switch and integrated bell

Brake Pad Material
Sintered metal

Brake Rotors
Tektro 180 mm front and rear

Chain
Z7

Crank Set
42T, 170 mm forged alloy, dual-sided aluminum bashguard

Derailleur
7-Speed Shimano Altus

Fenders
Included, black plastic front and rear, full coverage

Fork
spring fork, 100 mm travel, with lockout and preload adjustment


Frame
6061 aluminum

Freewheel
7-speed freewheel, 11-34T

Gearing
1 x 7-speed

Grips
Velo comfort rubber ergo

Handlebar
Custom formed aluminum

Headset
Semi-integrated, 1-1/8" straight steerer tube

Kickstand
Heavy-duty aluminum with wide plastic foot

Pedals
forged aluminum platform with reflectors, standard 9/16" x 20 TPI threading

Racks
Front: Optional
Rear: Integrated, 60 lb carrying capacity, 16 mm tubing diameter


Rims
Weinmann Goliath, alloy, double wall, 36H

Saddle
Plush with lifting handle

Seatpost
350 mm x 27.2 mm

Seatpost Clamp
Quick release

Shifter
Shimano SL-TX50-7R thumb shifter, 7-speed

Spokes
12-gauge stainless steel

Stem
Zoom, 60º angle adjustment, 100 mm length, 88 mm height adjustment

Tires
Rad Power Bikes by Kenda K-Rad 26" x 2.3", K-Shield puncture-resistant liner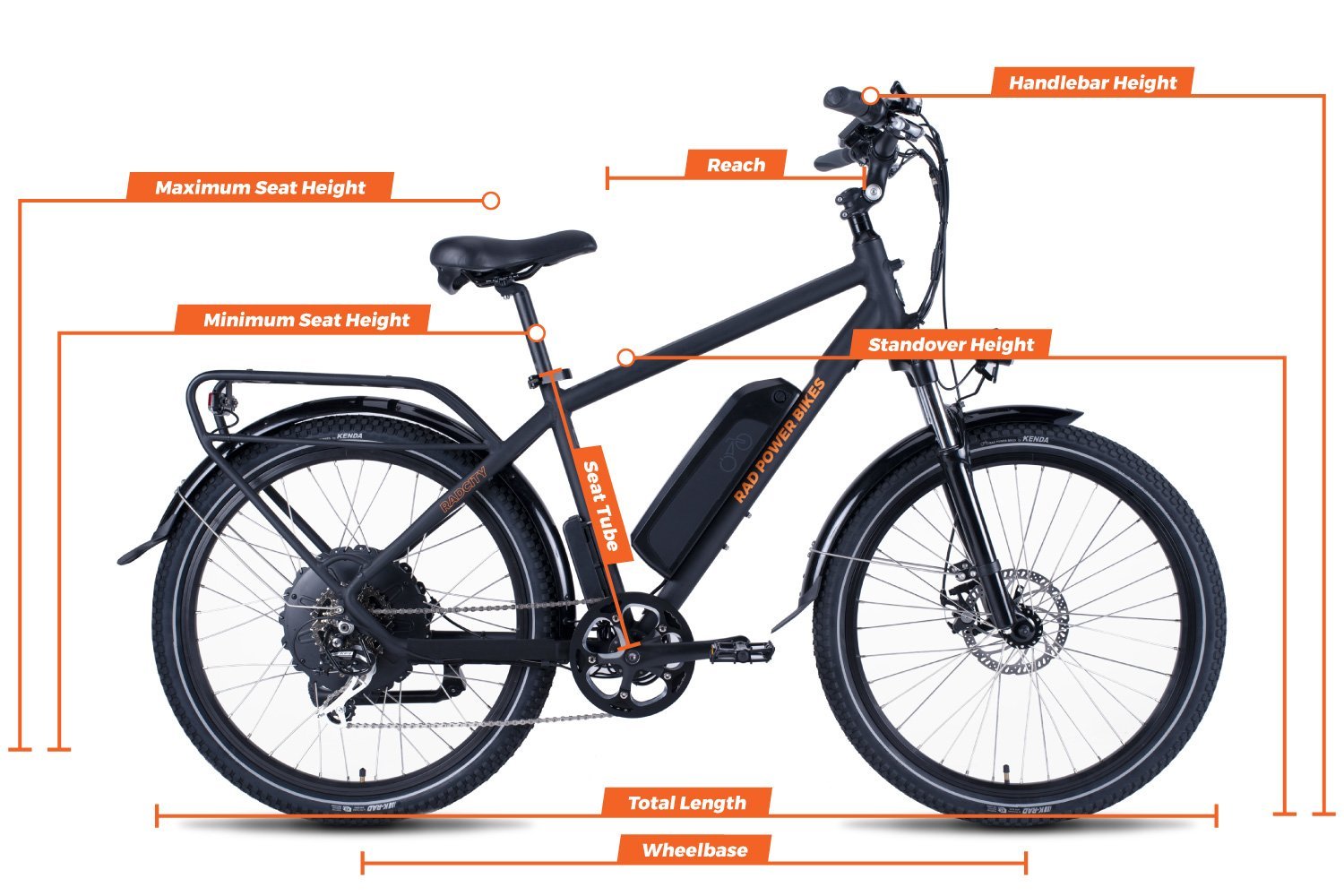 Recommended Rider Heights
5'11"- 6'5"

Frame Size
18.5"

Handlebar Height
45"

Handlebar Reach
14.5"

Seat Height
28" - 37"
*Measured from bottom of the pedal stroke

Standover Height
31"

Total Length
70"


Wheelbase
43"

Dropout Width
Front: 100 mm
Rear: 135 mm

Bottom Bracket Shell Width
68 mm
Square taper bottom bracket

Seat Tube Length
18.5"

Top Tube Length (effective)
23"

Headtube
7"

Chainstay
18"


Handlebar Width
700mm (28")

Crank Length
170 mm

Seatpost Diameter
27.2 mm

Max Tire Width
2.3"

Bike Weight
64 lb

Payload Capacity
275 lb

Rear Rack Capacity
60 lb


What to Measure
Your "real inseam" -- or inside leg length -- is the distance between your body where it sits on your bike saddle and the ground.
This will typically be an inch or two longer than the length of your trousers, but you'll want to measure to be sure.
You'll use this number on the chart to get a feel for how the different models will fit you.
How to Measure
Gather the tools needed:
Medium-width hardcover book
Tape measure
A wall you can stand against
A trusted friend or relative
Wearing your regular riding shoes and with your back to the wall, stand with your feet spread so there is about 7 inches between them - this is about the distance apart your feet would be when straddling a bike with your feet on the ground (standover height).
Place a hardcover book against the wall with the spine of the book facing upward. Slide the book upwards towards your groin until it is solidly against your body. This may be a bit awkward, but is way more comfortable -- and safer! -- than trying to ride a bike that is too big.
If you have a buddy helping you, get them to measure from the floor to the top of the book spine while you hold the book in place. If you're going it alone, carefully hold the book in place and measure from the ground to the top of the book spine.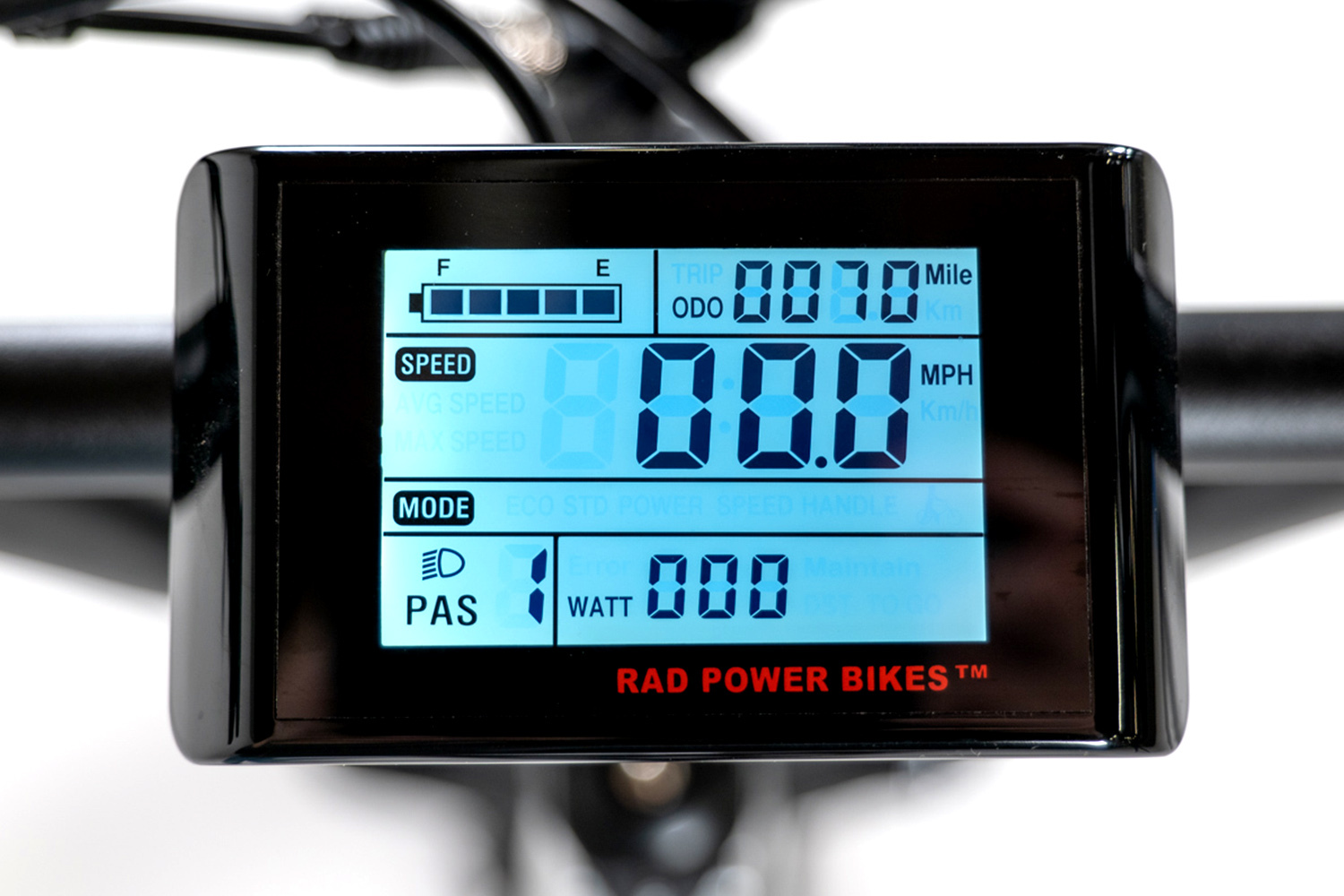 Battery Life
A fuel gauge for your electrons.

Pedal Assist Level
The higher the number, the more the motor will boost you when you pedal.

USB Charging
5V, 1 Amp port to charge your phone or portable electronics on the go.


Odometer
Calculate how many miles you didn't drive this year and how much money you saved on gas.

Speedometer
Can be set to current speed, max speed, or average speed.

Wattmeter
Shows how much power the motor is outputting at any given time.


The Rad Battery Pack
With over a decade of designing and building ebikes under our belts, we know that a high-capacity battery like this isn't something you cheap out on. We designed and built our batteries using genuine Samsung 35E cells, which are some of the most energy-dense and reliable lithium-ion cells on the market today. These cells have allowed us to build an overall better battery, and at only 7.7 lb, it's one of the lightest and most energy-dense packs on any electric bike.
25-45+
Miles per Charge
5-6 Hours
To Fully Charge
672 Wh
Total Battery Capacity
Reliable, Smooth, Maintenance-Free Hub Motor
Using a brushless direct drive hub motor allows regenerative braking to be enabled as a standard feature. This allows the user to slow down when traveling downhill or coming to a stop while charging the battery in the process. Regenerative braking is automatically activated anytime you engage the brake levers, meaning you can take advantage of this amazing feature without having to do anything extra.
750W
Motor Power
40 Nm
Max Motor Torque
Winner, Best Commuting Electric Bike of 2021
"It is no small wonder there are so many of these running around for both commuters and companies alike."
- ElectricBikeReview.com
Looking for something even more affordable?

The RadMission is a slick, stylish single-speed electric metro bike for city riders craving more excitement and utility than your average fixie -- and at a price of $1,099, it's available at our lowest price point ever.

Explore RadMission